Anyone in the market for new drag tires should definitely give Nitto's NT555R radials some consideration. Advertised as a hybrid tire suitable for both competition and 'occasional street use', these tires are perfect for drag racing hobbyists who frequently race on the weekends. 
The Nitto NT555R has been a top selling performance tire for years, and because of its consistent performance and combination of excellent street manners and track grip, many drivers trust the 555R.
The simple design offers a great tire that can easily handle daily driving duties (within reason) and has the longest life span of any drag radial on the market currently. 
Nitto NT555R Features & Benefits
The Nitto NT555R Extreme is a DOT drag radial that was designed to provide street cars the ability to drag racers with being a highly streetable tire without compromising grip at the track. The 555R design is identical to the original Nitto 555 street radial but with a softer compound for increased grip. This design provides the combination of a quiet street ride and excellent straight line traction.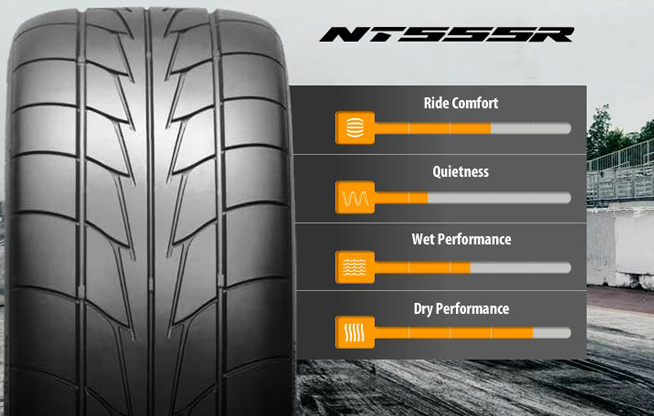 Available Sizes: 15", 16", 17", 18", 20"
Tread Depth:

1/32"

Weight:

26.42 – 32.53lbs; dependant on size

D.O.T. Compliant:

Yes

UTQG Treadwear:

100

Traction Rating:

A

Temperature Rating:

A

Speed Rating:

V (up to 149mph)
Available in sizes ranging from 15" to 20", the Nitto 555R drag radial tires are designed for rear use only. Additionally, they are intended to be paired with Nitto's 555 summer performance street tires. With the summer performance street tires on the front axle and the drag radials in the front, this duo has the traction and treads necessary for legal street use. Not only that, but they also have the construction design and reinforcement to perform well at high speeds during recreational races.
Key Features
Performance-grade competition tire

High grip, soft compound with semi-radial construction

Reinforced belt structure for optimized traction and stability at high speeds

Designed to fit modern performance vehicles

Optimized for use in dry conditions

Approved for use on public streets as well as racetracks
Made of a soft compound, the Nitto NT555r extreme drag tires are D.O.T. compliant and legal to drive on public roads. This makes them convenient for weekend drag racers who want to be able to drive them to and from a race without problem.
Additionally, they are also a performance grade set of tires and perform well in terms of speed and stability. With the help of their reinforced belt structure with a semi-radial construction, these tires are suitable for speeds of up to 149mph. This reinforced belt structure also helps to protect the tires from punctures while driving on standard roads.
The Nitto NT555R tires were designed to maximize traction and grip on dry surfaces; meaning they will perform at their best on dry roads. Additionally, they will also perform better in warmer temperatures. This makes them an ideal choice for use during the summer months or in locations with warmer climates.
Given the fact that they were designed for dry surfaces in warm temperatures, these tires do not perform as well during colder temperatures. Some performance problems during colder temperatures include reduced traction, loss of flexibility, and an increased risk of damage. Nitto does offer clear guidance for using these tires in colder temperatures (below 15°F). Some of these guidelines include never moving or operating the tires when temperatures reach below 15°F, storing them in an environment above 68°F, and making sure to inspect tires for cracks when the temperature drops.
In terms of how long these tires will last, Nitto does not provide an expected life or mileage expectancy. However, according to reviews, it is common for drivers to get 15,000 miles out of these tires when used in a daily driver or weekend street car set up. However, this can be much lower depending on a number of factors including road conditions, temperature, storage facilities, and burnout.
In terms of price, these tires are considered to have a moderate price point; with the current online retail price per tire being on average between $150.00 – $200.00.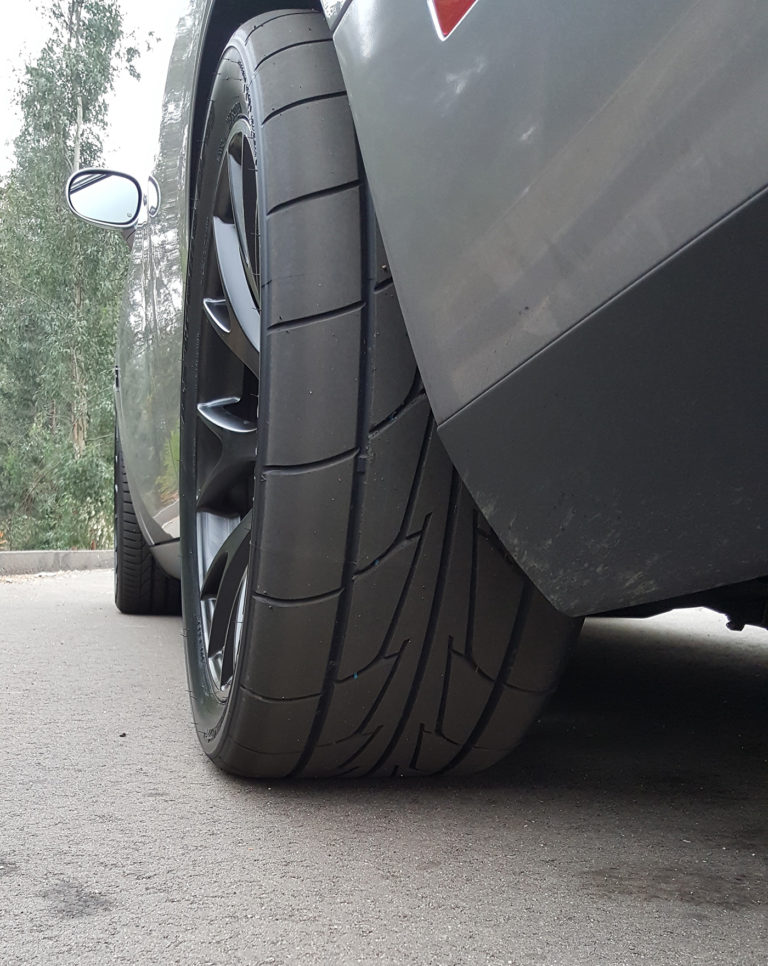 The 555R comes in a variety of common sizes designed to fit all sorts of cars, trucks, and SUV's. You can find the Nitto NT555R Extreme drag radial in the following sizes: 
15″
16″
17″
18″
20″
15″ Nitto 555R Extreme Drag Radial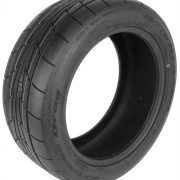 Weight: 25 lbs
Diameter: 25.71″
Width: 11.10″
Approved Wheel: 7.5″ – 8.5″ – 9.5″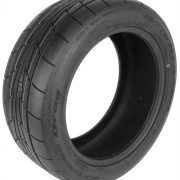 Weight: 29.39 lbs
Diameter: 27.76″
Width: 11.10″
Approved Wheel: 7.5″ – 8.5″ – 9.5″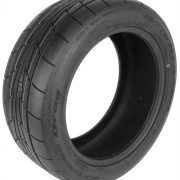 Weight: 34.06 lbs
Diameter: 27.99″
Width: 12.75″
Approved Wheel: 9″ – 10″ – 11.5″
16″ Nitto 555R Extreme Drag Radial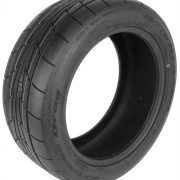 Weight: 25 lbs
Diameter: 25.67″
Width: 9.8″
Approved Wheel: 7″ – 7.5″ – 8.5″
17″ Nitto 555R Extreme Drag Radial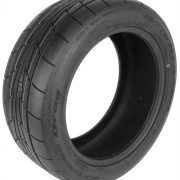 Weight: 24.06 lbs
Diameter: 25.71″
Width: 9.69″
Approved Wheel: 7.5″ – 8″ – 9″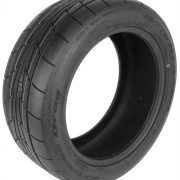 Weight: 25.5 lbs
Diameter: 25.63″
Width: 10.91″
Approved Wheel: 9″ – 9.5″ – 11″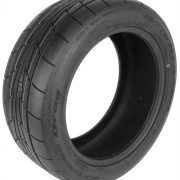 Weight: 29.52 lbs
Diameter: 25.79″
Width: 12.13″
Approved Wheel: 10.5″ – 11″ – 12.5″
18″ Nitto 555R Extreme Drag Radial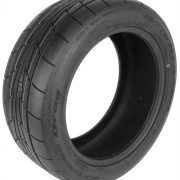 Weight: 30 lbs
Diameter: 25.91″
Width: 11.22″
Approved Wheel: 9.5″ – 10″ – 11″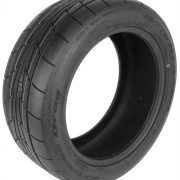 Weight: 29 lbs
Diameter: 26.89″
Width: 11.42″
Approved Wheel: 9.5″ – 10″ – 11″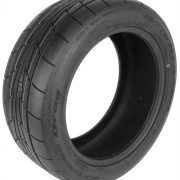 Weight: 38 lbs
Diameter: 26.42″
Width: 12.40″
Approved Wheel: 10″ – 11″ – 12″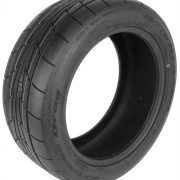 Weight: 38 lbs
Diameter: 27.72″
Width: 12.13″
Approved Wheel: 10″ – 11″ – 12″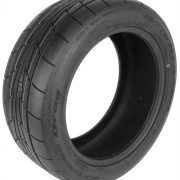 Weight: 32 lbs
Diameter: 28.78″
Width: 12.0″
Approved Wheel: 9.5″ – 10″ – 11.5″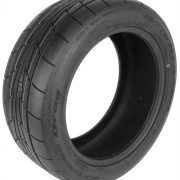 Weight: 30 lbs
Diameter: 26.06″
Width: 13.9″
Approved Wheel: 11.5″ – 12″ – 12.5″
20" Nitto 555R Extreme Drag Radial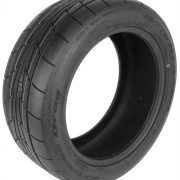 Weight: 30 lbs
Diameter: 28.82″
Width: 10.67″
Approved Wheel: 9″ – 9.5″ – 11″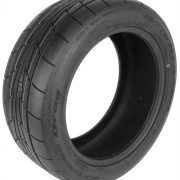 Weight: 32.74 lbs
Diameter: 28.58″
Width: 12.16″
Approved Wheel: 10″ – 11″ – 12″
Nitto NT555R Air Pressure
After mounting and balancing your new 555R's, it is recommended to start with a cold tire inflation of around 20 psi. Based on this, adjust the tire pressure 1 psi until you achieve your desired results. 
As always, it is best to use the highest tire pressure you can without any tire spin. This will help with tire stability and reduce rolling resistance. 
However, when using on the street, it is always recommended to inflate the tires more than you would normally for the track.  Just be aware that too much air pressure in the 555R's will cause uneven wear and cause the centers to wear out faster than the rest of the tire.  
With personal experience using the 555R, we find that they hook well on the street with about 22-24 PSI. We haven't taken these tires to the track yet, but are certainly excited to test them out.
For some time the Nitto NT555R has been one of the top selling drag radials, and rightfully so. With its lower price point, increased grip, and suitable wet traction, the 555R is a great option for the average weekend muscle car hobbyist.
"In my opinion these are the best all around tire for street use. They do a great job hooking on the street"
"With a smooth street launch, they are the only DOT approved tire that I can launch in first gear and maintain traction."
"This tire is one of the best street strip tires for any car with moderate horsepower"
"Got the Nitto NT555R for a great price for my Challenger Hellcat. I can't believe how well my car hooks-up and sticks to the road."
"I love my nittos. Run them on all my cars. Great price for the performance."
"Excellent tires that perform exactly as they should providing extra traction and controllable acceleration for a higher hp car."
Nitto NT55R Extreme Drag Pros & Cons
Overall the Nitto NT555R Extreme drag radial is one of the best designed drag radials for both comfort on the street and consistent grip at the drag strip.  For the cost it's hard to beat the performance of the 555R both on and off the track.
Pros
Competition grade

Hybrid style that is flexible and able to transition from the 'street to the strip'

High level of stability at high speeds

Moderate price point

Suitable for use on most modern performance vehicles

Nice variety of sizes ranging from 15″ to 20″
Cons
Not optimized for driving in wet conditions

Reduced performance in cold temperatures

No mileage or life expectancy warranty
Bottom Line
Similar to the Toyo Proxes TQ, the Nitto NT555R is a dual-purpose drag radial that allows drivers to safely drive in wet conditions with a sense of safety compared to more aggressive drag radials. 
These tires are a great option for the weekend car enthusiast who race for fun and cruise around in nice weather. The 555R is a solid, high-quality option for those looking for a high performance tire that provides far superior grip compared to a standard street radial. In addition to the increased grip, the NT555R will not break the bank or be a wasted investment in the fun department. 
Despite its performance, it is still important to remember the Nitto NT555R will experience reduced performance capabilities in cooler weather like most other drag tires. 
At the end of the day, the Nitto NT555R Extreme drag radial is a solid street strip tire that provides drivers with great grip and a sense of comfort when driving in wet conditions.
Nitto NT555R Drag Radial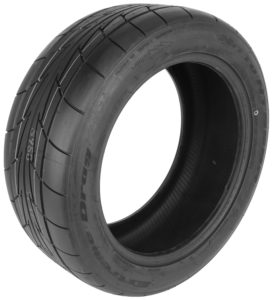 The Nitto NT555R is one of the most popular street oriented drag radials and rightfully so. See what makes the 555R such a great option for your street car!
Product Brand: Nitto
Pros
Competition grade
Hybrid style that is flexible and able to transition from the 'street to the strip'
High level of stability at high speeds
Moderate price point
Suitable for use on most modern performance vehicles
Nice variety of sizes ranging from 15″ to 20″
Cons
Not optimized for driving in wet conditions
Reduced performance in cold temperatures
No mileage or life expectancy warranty