A lot of performance enthusiasts these days look for multi-purpose drag radials that can withstand the abuse of street driving while delivering serious grip at the track.  
That makes complete sense rather than opting for pure drag radials that will be used say, once a year or only on weekends, and are cooling the garage the rest of the time.
But street driving and drag racing aren't exactly the same cup of tea and finding a tire that's versatile enough to tick both these boxes is a tall order. 
Enter the Nitto NT05R, Nitto's DOT certified competition-grade drag radial that's designed for excellent hook-up under power and reasonably good performance on the road. 
Nitto NT05R Features & Benefits
The Nitto NT05R may be advertised as an all-purpose tire. But make no mistake, this is a quintessential drag radial at heart, designed for maximum traction in dry, optimum conditions. 
It is available in sizes ranging from 17" to 20" in diameter and widths ranging from the popular 275 to the steamroller 345.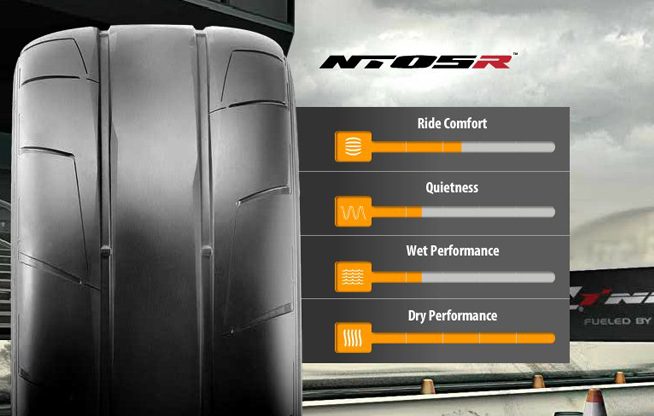 Available Sizes: 17", 18", 19″, 20"
Tread Depth: 

1/32"

Weight:

 27.92 – 34.54lbs; dependant on size

D.O.T. Compliant: 

Yes

UTQG Treadwear: 

00

Traction Rating: 

B

Temperature Rating: 

B

Speed Rating: 

V (up to 149mph)
Available in sizes ranging from 17" to 20", the Nitto NT05R drag radial is designed for rear use only. Additionally, they are intended to be paired with Nitto's NT05 summer performance street tires. With the summer performance street tires on the front axle and the drag radials in the front, this duo has the traction and treads necessary for legal street use. Not only that, but they also have the construction design and reinforcement to perform well at high speeds during recreational races. 
Huge center rib with a sidewall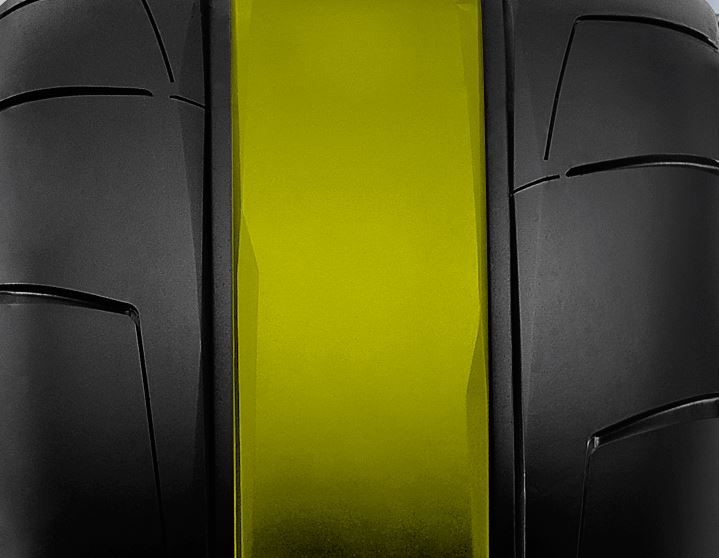 The most noticeable feature on the Nitto NT05R is the large center rib that gives you maximum contact with the strip for that additional bite right off the line. 
This also helps evenly distribute pressure across the tread which translates into a better grip with very little spinning. 
Nitto takes it one step ahead and throws in a prominent sidewall that further improves your traction especially when launching.
There are customers who have used this with 800HP+ who've consistently been able to utilize the horsepower for launching their cars rather than just spinning, even on the street. 
In cold weather, we've seen drag radials get slick, squeal and chirp until they are warmed up. The NT05Rs work just fine without warming be it street or strip. 
Does it need a burnout? 
Not usually. 
But that also depends on your setup and the weather conditions.
We've seen the NT05Rs perform just fine without a burnout. Stuck like glue to the track.
We've also seen them squeal a bit when the temperatures were below 50 and the car wasn't tuned for performance. But so do Mickeys or just about any brand that you throw on your car. 
If you feel that they are lacking traction, just heat them up a tad. 
Nitto NT05R Wear & Speed Ratings
Since we are talking about a DOT-certified drag radial, let's check how these tires perform in less than ideal conditions. 
It comes with a UTQG Treadwear rating of 00, which for those who don't know, that's a rating that's used to gauge the lifespan of a tire. However, the zero rating does not mean that these tires are going to burn out and go bald in a few days. 
It just means that these are designed primarily with high performance racing in mind. It's noticeably softer than all-season touring tires. 
In comparison, the Nitto 555s have a rating of 100, whereas these are much better drag radials than those. (In our opinion).
So you shouldn't look too much into the rating. 
It comes with a 'B' rating for wet condition usage, which indicates that while it's not designed for making deft turns in heavy rain, it does hold up pretty well. In simple terms, you shouldn't face too many problems in wet conditions unless you are looking to time it. 
When driven at 60-70 mph, most customers have reported zero slips or incidents of the car hydroplaning. That's more than satisfactory. 
What front tires do they best pair with?
According to Nitto, these work best with the non-radial version of the same tire, which is the NT05. But you can pair them with just about any tire on the front axle. It works just fine. 
Pairing it with the NT05 does help with maintaining a consistent look though. So you might want to consider that. 
Best features
DOT-certified drag radial that performs reasonably well on the street
Specialized race compound and tread 
Large center rib for maximum traction
Prominent sidewall for launch traction
Grips the track unlike anything else in dry weather
Decent performance in poor weather as long as you drive at 60-70 or less
Great control during turns allows you to use it for cruising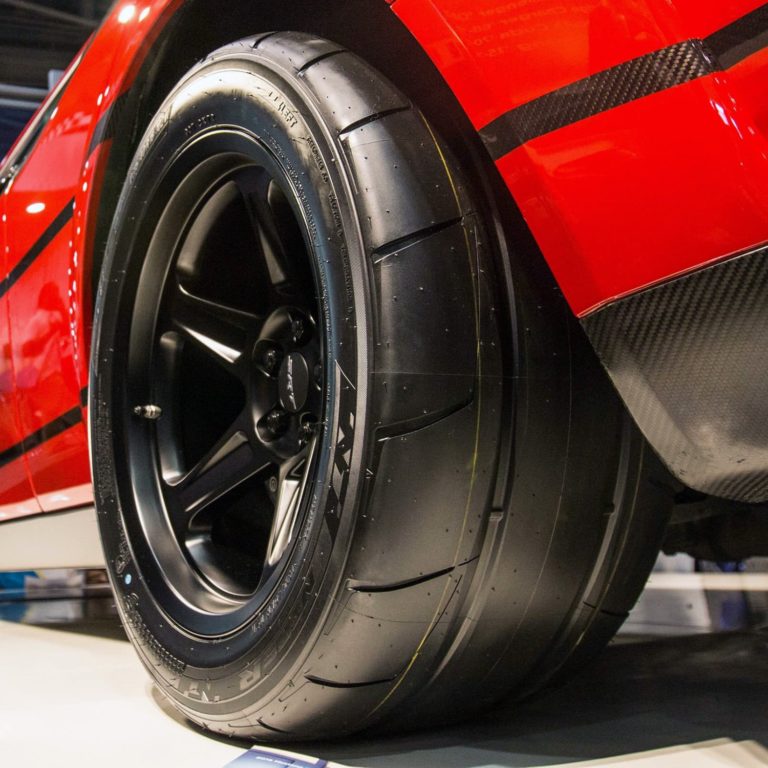 17″ Nitto NT05R Drag Radial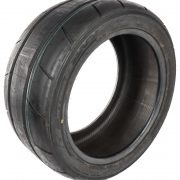 Weight: 27.93 lbs
Diameter: 25.79″
Width: 11.02″
Approved Wheel: 9″ – 9.5″ – 11″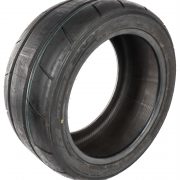 Weight: 29.86 lbs
Diameter: 25.71″
Width: 12.48″
Approved Wheel: 10.5″ – 11″ – 12.5″
18″ Nitto NT05R Drag Radial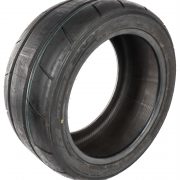 Weight: 29.82 lbs
Diameter: 27.09″
Width: 11.42″
Approved Wheel: 9.5″ – 10″ – 11″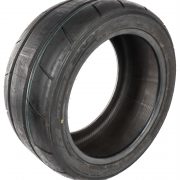 Weight: 33.67 lbs
Diameter: 28.90″
Width: 12.05″
Approved Wheel: 9.5″ – 10″ – 11.5″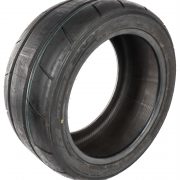 Weight: 33.15 lbs
Diameter: 28.03″
Width: 12.60″
Approved Wheel: 10.5″ – 11″ – 12.5″
19″ Nitto NT05R Drag Radial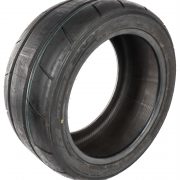 Weight: 31.55 lbs
Diameter: 27.44″
Width: 12.32″
Approved Wheel: 10″ – 11″ – 12″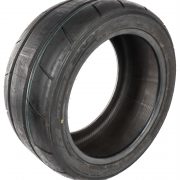 Weight: 34.54 lbs
Diameter: 27.36″
Width: 13.43″
Approved Wheel: 11.5″ – 12″ – 12.5″
20" Nitto NT05R Drag Radial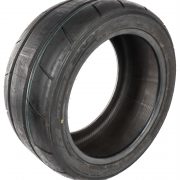 Weight: 33.20 lbs
Diameter: 28.74″
Width: 12.48″
Approved Wheel: 10.5″ – 11″ – 12.5″
After mounting and balancing your new NT05R's, it is recommended to start with a cold tire inflation of around 20 psi. Based on this, adjust the tire pressure 1 psi until you achieve your desired air pressure while still having a wide enough contact patch. 
As always, it is best to use the highest tire pressure you can without any tire spin. This will help with tire stability and reduce rolling resistance. 
When using the NT05R on the street, it is best to inflate them more than you would for track usage.  Similar to other drag radials, you want to prevent uneven wear in the center by over inflating the tires.   
Most users find that the NT05R hooks well on the street with about 25 PSI, like the 555R. 
The Nitto NT05R drag radial is a quality dual purpose tire with a very aggressive design with the intent of traction both on and off the track. Many users have found that they may not last as long as other tires, but given their nature, that is to be somewhat expected. 
Overall, these tires are great for aggressive street driving and grip.
"In my opinion these are the best all around tire for street use. They do a great job hooking on the street"
"With a smooth street launch, they are the only DOT approved tire that I can launch in first gear and maintain traction."
"This tire is one of the best street strip tires for any car with moderate horsepower"
"Got the Nitto NT555R for a great price for my Challenger Hellcat. I can't believe how well my car hooks-up and sticks to the road."
"I love my nittos. Run them on all my cars. Great price for the performance."
"Excellent tires that perform exactly as they should providing extra traction and controllable acceleration for a higher hp car."
Nitto NT05R Extreme Drag Pros & Cons
Overall the Nitto NT05R drag radial is one of the more aggressive street strip tires designed for maximum grip. Due to this, there will obviously be a reduced tread life compared to its 555R counterpart. 
Pros
Aggressive tread design for maximum traction

Great tire for factory late model vehicle wheels

Specialized race compound
Large center rib for serious grip
Excellent on the street and track
Cons
Not optimized for driving in wet conditions

Reduced performance in cold temperatures

Lower tread life
Final verdict
The Nitto NT05R is a terrific drag radial that gives you the dry weather performance that can win races on the track while being able to drive you home. If we had to compare these tires to others, they are the most similar to the Mickey Thompson ET Street SS in therms of how aggressive the tread is. 
While these are a dual purpose street strip drag radial, like the ET Street SS, they are not the best for any sort of daily driving based on their minimal tread. Will you be ok to get caught in the rain with these? Yes, but it not recommended to drive in wet conditions often. 
Overall, the Nitto NT05R is a great tire for the performance driver looking for serious grip. With its specialized compound and aggressive tread design, the NT05R is a top contender for best street strip drag radial. 
Nitto NT05R Drag Radial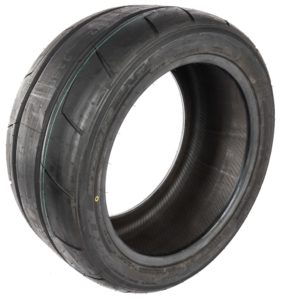 The Nitto NT05R is one of the more aggressive dual purpose drag radials that commands serious straight line performance and grip. Learn more about the NT05R!
Product Brand: Nitto
Pros
Aggressive tread design for maximum traction
Great tire for factory late model vehicle wheels
Specialized race compound
Large center rib for serious grip
Excellent on the street and track
Cons
Not optimized for driving in wet conditions
Reduced performance in cold temperatures
Lower tread life