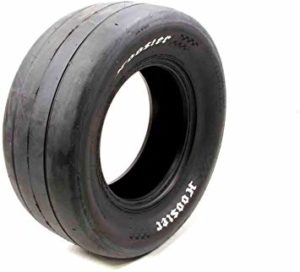 Hoosier DOT Drag Radials




Developed for drag racers, Hoosier DOT Drag Radials are constructed with a sturdy sidewall for ride and cornering stability.  They have less rolling resistance than bias ply racing tires, and ideal for competition class races that require street legal tires. In 15", 16", and 17" diameters, these radials may help you add speed to your drag run. 




At A Glance Features:

Beginning at 4/32" molded tread depth, you can realistically just scuff them in and ride. 

Sturdy sidewall construction for a smooth ride and stabilized cornering

Special tread compound that is molded to slick tread design with five dash circumferentially oriented grooves

Symmetric nylon cord casing that is reinforced by two lightweight belts

No problems hooking in leading to a clean and quick run

Minimizes rubber throwback onto your car




Pros:




The Hoosier DOT Drag Radials handle and hook up without issue on the track

Minimal rubber throwback onto your quarter panels because the tread is 4/32" start depth 

Solid white lettering add a clean finish to this solid radial tire

This Drag Radial is perfect for running on many automobile models, including Corvette, Camaro, GTO, and Shelby, Boss, Cobra, and Mach1 Mustang.

Two rain grooves designed to maximize the amount of tire contact area.  




Cons:




These tires are not legal for highway applications, and are for sanctioned race applications only.  However, the R6 or A6 series of Hoosier DOT Drag Radials are the road racing approved radials, and are available in the same range of sizes as the non highway approved radials. 

The stiffer sidewall has been a concern for some racers in regards to the ability to hook and handle as well as some other radial designs.  However, it has been shown in track applications that the stiffer sidewall allows for a lower tire pressure without decreased accuracy or the problem of sidewall rollover occuring. 

There have been some ABS system issues because of the overall shorter diameter than some comparable brands of drag radials.  However, this has been deemed overall to be a stabilitrak issue with some cars, and isn't indicative of the diameter affecting the brake systems. 




Where To Buy:




Link

Link





Conclusion:




Hoosier DOT Drag Radials have a softer and more pliant overall feel than some of the competitors radials.  One of the features that is applauded is the ability to scuff in the tire, versus extended burnouts to season the radial.  This can help to save the tire tread.




With a much lighter weight that most competitors drag radials, the Hoosier DOT Drag Radials won't rob energy from your launch by weighing your car down.  In addition, with the shorter diameter giving more power at higher revolutions, you'll see less drag overall while maintaining grip. 




The Hoosier DOT Drag Radials have a larger contact patch to prevent spinning, and a sturdy sidewall will ensure a smooth ride and better control in terms of cornering.  In 15" through 18" wheel diameters, the Hoosier company has a versatile radial that can be a choice product for models ranging from Corvette to the Mustang Boss. They may need to be trial tested for potential ABS sensor issues due to the overall diameter. 




As with all racing radials, to store these tires you need to release the air pressure and store indoors in a cool, dark room.  It is best if you lay them on their side to store them. The symmetric nylon cord casing and uni-directional rain grooves ensure that the tire can be installed on either car side without performance being affected.   




Dead hooks and handling are not a problem with this radial, and the lighter overall tire, you won't find yourself sacrificing stability for speed.  The 4/32's beginning tread depth aid in reduced rubber throwback onto quarter panels. Two rain grooves are designed to maximize the amount of tire contact to the road for better control and handling.  




Seasoning these radials is best performed by three to eight track passes to remove the directional patterns.  It isn't necessary or recommended to perform extended burnouts in order to remove the directional patterns. The Hoosier DOT Drag Radials need to be rotated on each side of the vehicle after each drag event in order to keep the wear patterns even and ensure peak performance. 




DOT Labeled Hoosier Racing Tires meet DOT requirements for marking and performance only.  They feature a special compound to provide good traction, making them perfect for classes that require street legal style tires.  The Hoosier DOT Drag Radials are not intended for street use or for use on public roads. 
Hoosier DOT Drag Radial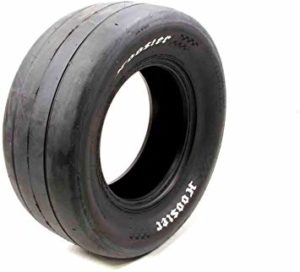 The Hoosier DOT drag radial is very lightweight and provides serious traction. This is a great drag radial for the price and will definitely improve track times.
Pros
Light Weight
Excellent traction
Various sizes
Cons
Not ideal for the street
Short lifespan